United States
Policy statement
Mr Don Graves
Deputy Secretary of Commerce
United States Department of Commerce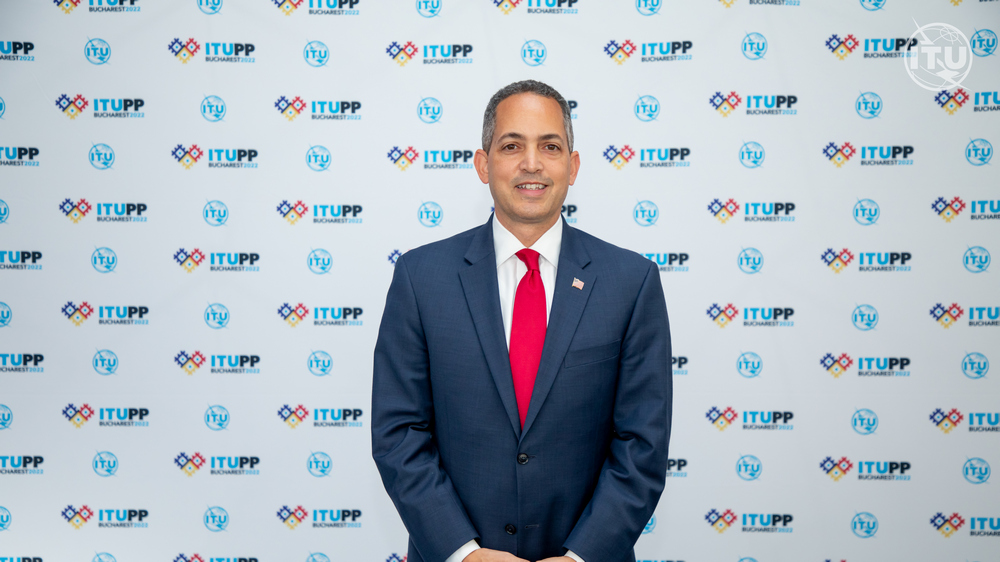 Thank you, Chair, and good afternoon colleagues.
Chair, ITU Secretary-General and other elected officials, excellencies, distinguished delegates, it is a great pleasure to be with you for the 2022 Plenipotentiary Conference. And it is a great honor to deliver the national statement on behalf of the United States of America.
First, I would like to offer my congratulations to the Chair on his appointment to lead this conference and convey my sincere thanks to the Government of Romania for the very warm welcome that the U.S. delegation has received here in Bucharest.
When the Plenipotentiary Conference last convened in Dubai in 2018, no one could have envisioned what the next four years would look like. The COVID-19 pandemic is a tragedy on a global scale. We are relieved and thankful to have held two successful conferences this year alone and to be together again for the Plenipotentiary Conference with our colleagues and friends.
In the past four years, we have witnessed remarkable progress, as well as challenges, on global telecommunication issues.
The pandemic highlighted the importance and necessity of affordable and meaningful connectivity and access to digital technologies. We watched social and economic activity move online.
But we still need to take greater strides together, in our home countries and here in the ITU to ensure all our citizens are connected. Online school only works if teachers and children have the right digital tools. Digital government services rely on resilient infrastructure and training.
Unfortunately, we also face the current challenges resulting from the war in Ukraine. Leaders from countries developing and developed, big and small, north and south, have spoken about the consequences of this war and the need to end it. And they've called on all of us to reaffirm our commitment to the UN Charter and its core principles, including sovereignty, territorial integrity, and human rights.
Together in the global community, we can make enormous progress. We can do this when we all work – in peace – together. This includes connecting the unconnected and improving both the level and the quality of telecommunications and ICTs. For example, since the last Plenipotentiary, 20 percent more people around the world have connected – many of them in developing countries. That is great news and something we should celebrate.
But there is still a lot of work to do.
The United States is committed to making further progress on these issues at home and abroad. In our own country, we are working to ensure that every American has access to affordable high-speed internet, to invest in resilient infrastructure and more secure networks, and to use technology that aligns with our values.
We are also committed to working with the international community to achieve universal affordable connectivity; to close digital divides, including the gender digital divide; to equip people with digital skills; to promote a secure and resilient digital environment; and to leverage ICTs to tackle challenges like food security and climate change.
To support this work, I am pleased to announce that the United States plans to increase our assessed contribution rate to the ITU from 30 contributory units to 35 contributory units at this Plenipotentiary Conference. That increase represents an additional 1.59 million Swiss francs per year to support the work of the ITU.
The United States was also very excited to join the Partner2Connect Digital Coalition, or P2C, recently launched at the World Telecommunication Development Conference in Kigali. In just a few months, a coalition of UN agencies, governments, and the private sector have received over 450 pledges from partners in over 100 countries – that is 26 billion USD worth of resources for the people that need it most. P2C is not just an extraordinary achievement for an international organization – it shows us what can be accomplished when we come together to tackle global problems.
Partner2Connect is one of many examples why the United States is so proud to support the leadership of Ms. Doreen Bogdan-Martin in her campaign to become the next Secretary-General of the ITU.
Doreen obviously needs no introduction to this body, but we can think of no better steward for the ITU. No one more qualified or as visionary to lead this organization than her.
Doreen is the right person at the right time to lead the ITU. On September 29, I hope you will all support and vote for her.
We would also be honored to receive your support for our reelection to the ITU Council so that we can continue to contribute to this organization's important work.
Together here in Bucharest, we are embarking on an important and challenging undertaking over the next few weeks to chart the ITU's course.
"Connect and Unite" is our conference theme. These are not independent goals, but inextricably linked. We must work together to connect the unconnected.
Let us use our time together wisely, to meet, talk, and exchange views and ideas, and grow closer as a community of action, united within the ITU.
The United States looks forward to working with other ITU members here in Romania, in the United States, and worldwide. Thank you.